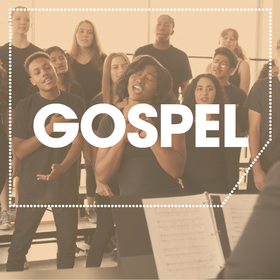 Fingerschnipsen, Klatschen, Tanzen: Auch 2023 haben Sie die Möglichkeit, eindrucksvolle Gospel-Konzerte zu besuchen. Gute Laune ist vorprogrammiert, wenn die Chöre ihre Lieder in einzigartigen Performances zum Besten geben. Nicht verpassen!

Ohne Gospel wäre Musik heute nicht so, wie wir sie kennen. Ob Jazz, Blues, Funk, Soul, Hip-Hop, Rock oder Reggae: In allen populären Musikstilen steckt der Einfluss afroamerikanischer Musik. Vor allem im Gospel sind diese Merkmale erhalten geblieben. Häufige Wiederholungen, Synkopisierung und das typische "Call & Response", bei dem der Vorsänger ruft und der Chor antwortet, sind ein fester Bestandteil in Gospelsongs wie "Oh Happy Day", "Precious Lord, Take my Hand", "Rock of Ages" oder "Soon and Very Soon".

Gospel ist das englische Wort für "Evangelium". Es leitet sich aus dem altenglischen Wort "godspel" her, was so viel heißt wie "gute Nachricht". Im Deutschen steht Gospel meist für die Musikgattung, während im Englischen das Wort in diesem Kontext nicht alleinstehend zu finden ist, sondern nur als "Gospel Music". Seinen Ursprung findet Gospelmusik in Spirituals – eine Musikrichtung, die in Amerika während der Sklaverei entstand. Diese Mischung aus christlichen Kirchenliedern mit afrikanischen Rhythmen führte zur Entwicklung des Gospels. Vor allem in den USA, aber auch in anderen Teilen der Welt erfreut sich diese Art der Musik bis heute großer Beliebtheit.

Mittlerweile gibt es weit über 1.000 Gospel- und Spiritualchöre in Deutschland, Tendenz steigend. Lassen Sie sich die Möglichkeit nicht entgehen, einen dieser Auftritte live zu erleben. Jetzt Tickets sichern!
Source: Reservix